[ad_1]

Editor's note: This is the second in a four-part series on CBD products.
Breana Holmes had struggled with the widespread pain of fibromyalgia for years when a friend let her try some of the cannabis-derived CBD products he was selling at his newly opened CBD shop.
The results changed her life, she said.
Holmes, who said she also suffers from anxiety, said the pain she felt regularly was finally manageable and she was able to relax. So, she said, she set out to open her own shop, and in February, the Canton resident became an owner of a Your CBD Store franchise location in Smyrna.
The Your CBD Store chain has expanded from a single location in Bradenton, Florida, in 2018 to 300 around the country in one year, according to a news release from the company. There are four Your CBD shops in Cobb.
"I've been self-employed for about eight years now, and I've always wanted to be in a position to help people. And as far as CBD changing people's lives, it's crazy to see how many people it's helping," Holmes said, adding that many people take prescriptions and struggle with the side effects. "With CBD, having something all-natural, all-organic, it's not going to harm you, you can't get addicted to it (and) you're not going to overdose on it."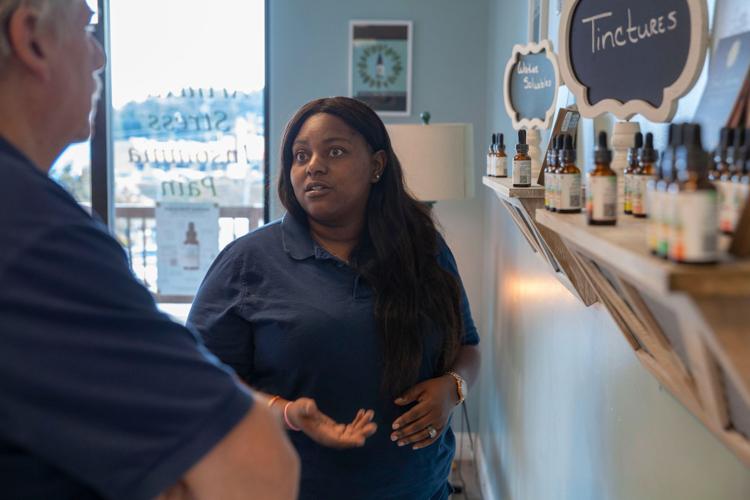 THE PRODUCTS
The walls of Holmes' shop off Cobb Parkway, less than a mile from SunTrust Park, are painted sky blue. Small, colorful bottles of fruit-flavored oils and water-soluble drops ranging from $40 all the way up to $300 line shelves along the walls. A couch with information about the CBD products sits next to the entrance.
Holmes isn't pushy with customers, but she makes recommendations for products that she says work best for their specific needs — 500-1,000 mg topical creams for targeted pain relief ($80-$110), 100 mg gummies or candies for more general pain or relaxation ($35) and capsules to take like a daily supplement ($60-$100 per bottle).
Pastel blue, green and pink bath bombs for $15 held by smiling stuffed animals rest in wicker baskets with anti-aging creams and face lotions from $12-25. A small container of lip balms for $10 each sits by the register.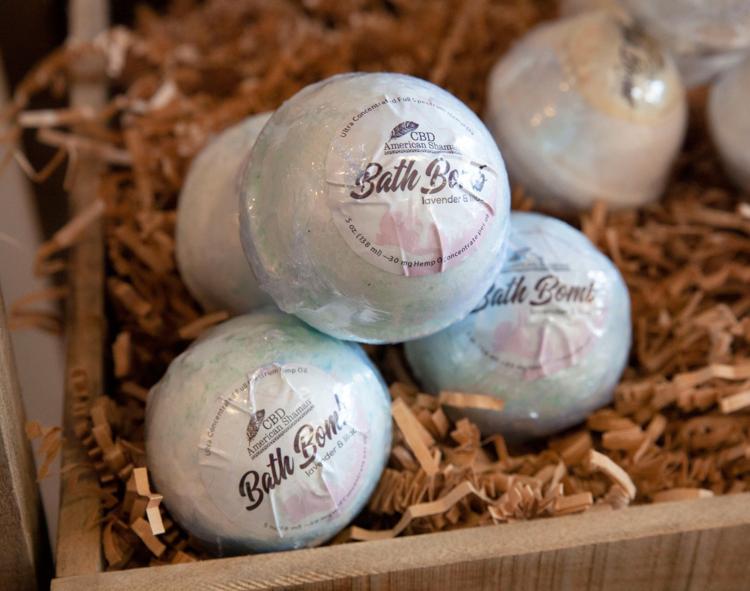 Holmes says some customers like to spread honey sticks, honey infused with 10 mg of CBD in each straw-like pouch, on biscuits. A package of 20 will cost you $50.
Mounted on the wall above the products rests a chart with recommended dosages by body weight. Holmes said she recommends customers begin at a dosage lower than the averages on the chart and then find the dosage that works for them.
For a person weighing 100-175 pounds, 18-24 mg of CBD should provide relief from a condition of "medium" severity, according to the chart. Depending on the product, Holmes said it can take five minutes to half an hour or more to feel the effects.
Holmes speaks like an expert on the products. She concisely answers each customer's questions about any of the products, and describes how they work inside the body. She says consultation gives her an opportunity to get to know her customers.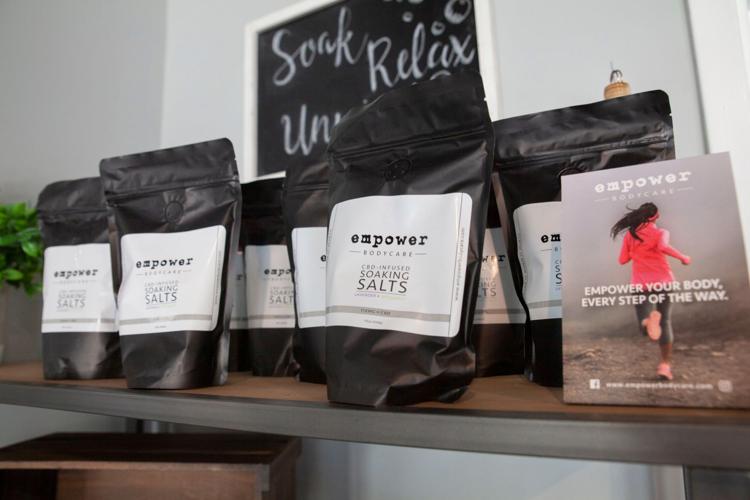 "People of course have to open up to you for you to be able to help them," Holmes said.
She says the shop's top-sellers are its "tinctures" — flavored CBD drops that dissolve under the user's tongue. The tinctures are also one of the fastest-acting products, she said.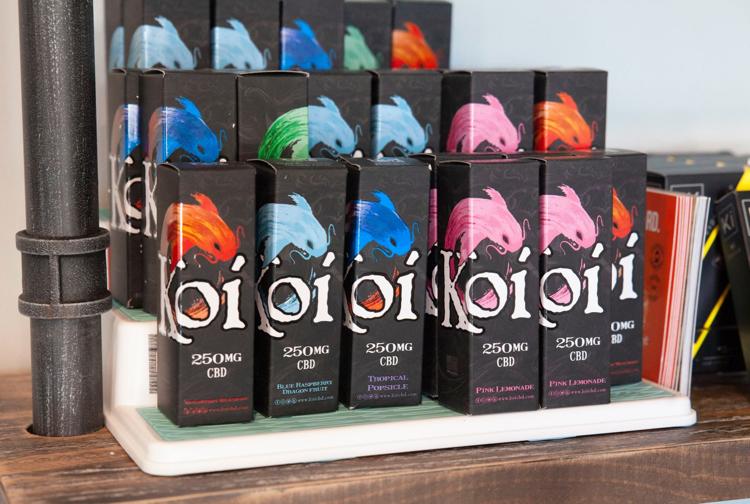 As Holmes spoke to the MDJ, shoppers of varying ages filtered in and out, purchasing CBD vape cartridges, lotions and oils. A gray-haired man who asked that his name not be published said he'd come in to sample the tinctures. He said he'd asked his doctor about whether the product might relieve pain from the arthritis in his knees, and he got the thumbs up to try it out.
"He was thinking about trying it himself," the Marietta resident said, adding that the doctor told him to ask store owners whether the products would cause any complications with his diabetes.
In the end, he walked out with a bottle of tincture.
Holmes said the feedback she's gotten from customers has been overwhelmingly positive. Some have been able to get back on a regular sleep schedule. Others have weaned themselves off of opioid pain relievers, which are often addictive or can have debilitating side effects, and replaced them with CBD products, which she said have none.
The price is another benefit, she said. While a CBD product could cost $50, $60, even $100, and last a month or so, that still may be less than the four prescription medications you'd take to address chronic pain, Holmes said.
"If it's only helping you and it's not harming you in any way, then you can't put a price on it," she said. "And you definitely can't put a price on your health."
CBD ATTRACTS INFORMED CONSUMERS
CBD's therapeutic uses are the main reason Holmes and other shop owners say the CBD industry and recreational marijuana are totally separate conversations. Users of CBD typically want the therapeutic effects, and not the psychoactive ones, they say. Even if recreational marijuana was legalized tomorrow, Holmes said, she'd still only be selling CBD.
Nearly every purveyor who spoke to the MDJ told the paper they hoped to expand their business as medical research, product regulations and community attitudes catch up. Most said they wouldn't venture into marijuana sales.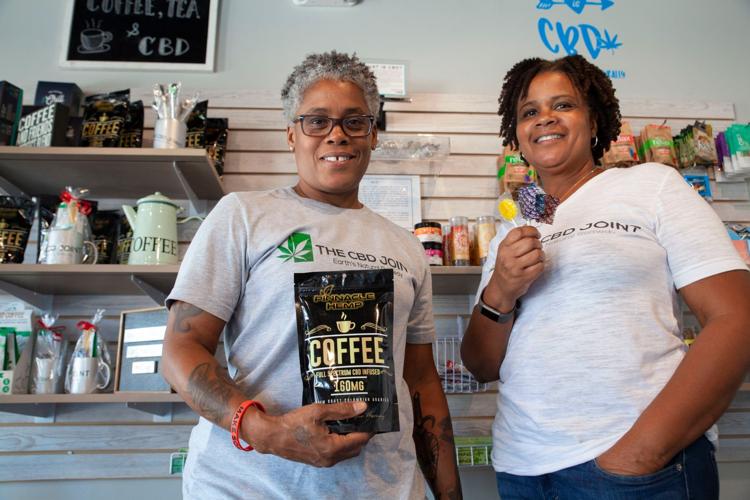 Like Holmes, Roz Grigger and Debora Herndon, co-owners of The CBD Joint on Church Street in Marietta, said while they believed CBD sales are a step toward legalization of recreational marijuana, that's not why they decided to step into the industry.
They acknowledge the name of their store, which opened in May, is a little more "on-the-nose" than most, but they said, it's just to catch consumer attention.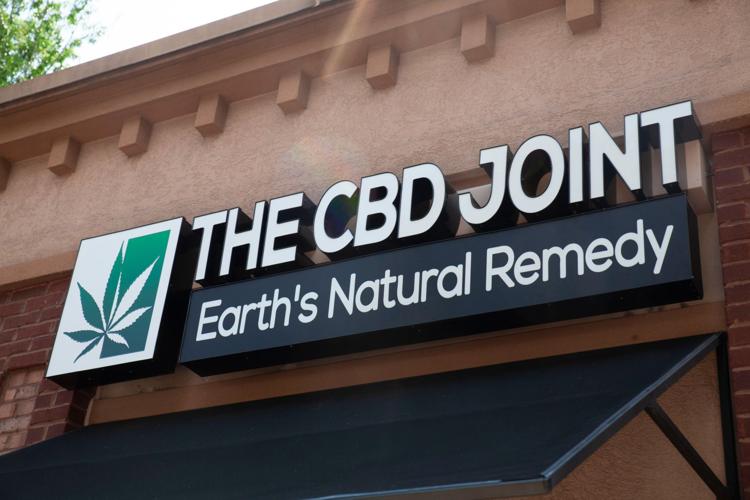 The business partners' shop is a little different. It's oddly shaped, a little tucked away and shares a wall with a Jimmy John's sandwich shop near WellStar Kennestone Hospital. The two women had plans to open the store months before they did, but said one of the obstacles to overcome in the cannabis industry is finding a landlord or landowner who approves of your products.
Grigger and Herndon sell many of the same products as chain stores, like Your CBD, but they also offer CBD-infused coffee grounds, water, lollipops and even hemp flower, a rarity because of the confusion surrounding possession of the cannabis sativa plant. The owners also said they don't sell anything for more than $100.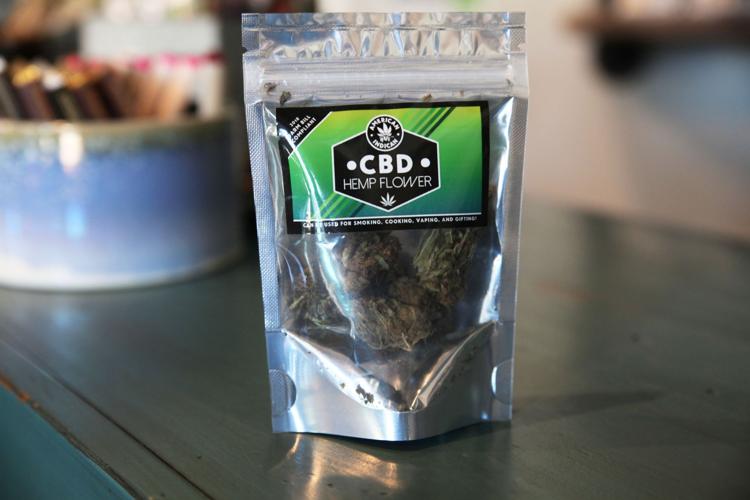 "We're customer-driven. We want to make this sustainable for people to do it every month," Grigger said, adding that CBD works best when it's constant in the body. "You can't be spending $120 every month."
Grigger and Herndon say their primary focus is education. Grigger said she and Herndon don't make promises that the products will cure ailments. They simply rely on the studies from the companies providing their products, as well as customer feedback. Their products are sourced from states like Colorado and Nevada.
Herndon said every product in the store has information and lab testing results online, and customers are able to scan the items' barcodes to view the information. The two business owners say they also encourage customers to ask their doctors whether the products could interfere with any of their medications.
"People have questions … but they're coming (here) more educated. And the other thing is that we try everything that we sell," Herndon said, adding that many customers have already done their own research when they come into the store.
Griggs said contrary to what you'll hear from lawmakers or other CBD opponents, reputable studies prove CBD's benefits far outweigh any risks, and consumers are beginning to see the light.
UNFOUNDED CLAIMS
Claims attached to CBD products, as well as the pseudo-medical advice of some companies and franchisees, has been getting them into hot water.
At Your CBD in Smyrna, a six-foot-tall sign in the back of the store lists in bold white the conditions for which the products are said to provide relief — ADHD, PTSD, Crohn's Disease, epilepsy, anxiety, insomnia and the list goes on. A laminated information sheet on the coffee table near the entrance lists more possibilities, claiming cannabinoids can prevent growth of cancer cells, lessen the tremors of Parkinson's Disease and help with the treatment of Hepatitis C, among other conditions.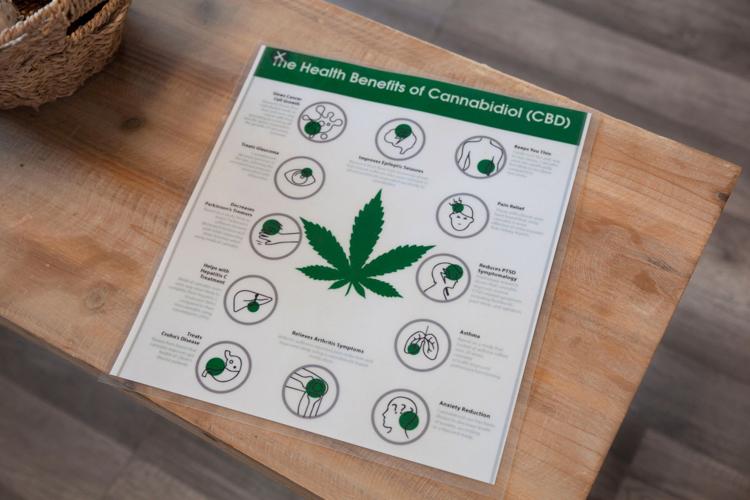 Those claims specifically have been the target of criticisms and warnings from the U.S. Food & Drug Administration and other agencies.
The FDA announced in July it had issued a warning letter to Curaleaf Inc., a cannabis and CBD company, for marketing its products to customers online using "unsubstantiated claims that the products treat cancer, Alzheimer's disease, opioid withdrawal, pain and pet anxiety, among other conditions or diseases."
The federal agency said, after review of the company's website and social media accounts, it found multiple claims that could put medical patients and consumers at risk by leading them to put off important medical care. The FDA requested the company take immediate action to correct the violations, and threatened legal action, including seizure of products or injunction, should the company decide not to act.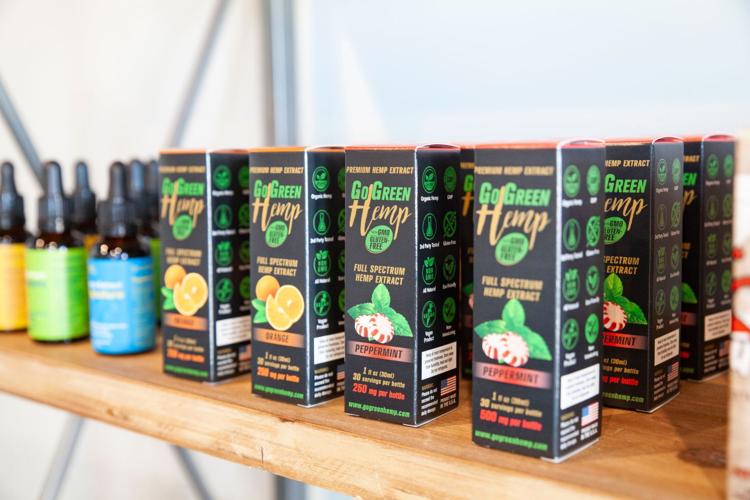 The FDA, U.S. Department of Agriculture and state-level agriculture offices are still working to establish regulations and licensing procedures, as well as classify the products for the marketplace.
The information sheet making many of the same claims as Curaleaf, Inc. remained at the Your CBD Store in Smyrna weeks after the public warnings.
Also illegal, according to the FDA, is the sale of food and drinks with CBD added to them. Georgia Agriculture Commissioner Gary Black reminded CBD businesses in the state of these laws earlier this year. Black's office warned that, if reported, businesses could face fines, cease and desist orders or other measures.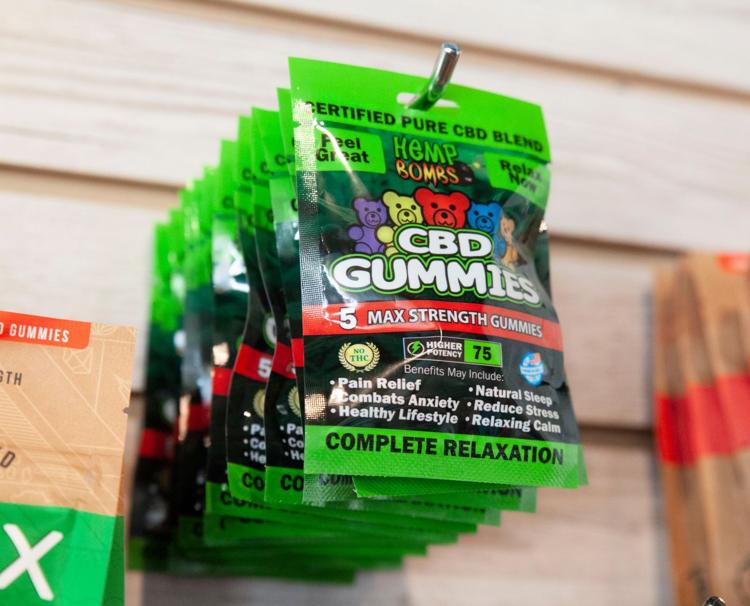 Yet, months later, Rev Coffee, a coffee shop in Smyrna, serves CBD in its lattes and other drinks for an up-charge, and virtually every CBD shop in the county offers gummy bears, marshmallow treats or cookies with CBD additives.
The FDA and local enforcement agencies consider various factors, including agency resources, when considering whether to take action to enforce the law, according to the FDA's website. Michael Felberbaum, a spokesman for the agency, declined to answer questions, instead directing the MDJ to the website.
In order to inform the regulatory path forward, the FDA held a public hearing in Silver Spring, Maryland, on May 31 for stakeholders to share their experiences and challenges with products containing cannabis and cannabis-derived compounds. As part of that hearing, the FDA opened a forum for the public to submit comments through July 16.
Regardless of various governments' fear-mongering and the constant bureaucratic delays in allowing the industry to move forward, business owners will stand by their products because they believe in them, according to Grigger and Herndon.
"I think right now, people are taking their own health into their own hands," Grigger said. "This is an alternative."
[ad_2]

Source link